Products for In-flight Services
In-flight goods, wine
Service flow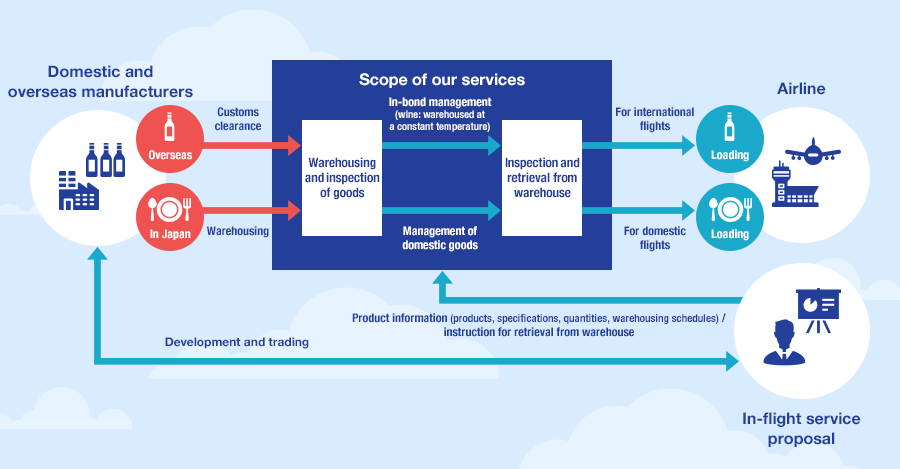 As for wine, we manage international transportation from overseas wineries, take in-bond customs clearance procedures after wine arrives in Japan, and then perform warehousing, inspection and storage in our bonded warehouse (at a constant temperature).
Our company offers integrated logistics services from international transportation management to customs clearance, warehousing, storage and domestic distribution, and is in charge of inspection and appropriate inventory management to maintain the ANA brand reputation.
Goods handled by us, warehouse work
In-flight amenity goods

Inspection work for protecting the ANA brand

View of warehouse work
In-flight amenity goods
Service flow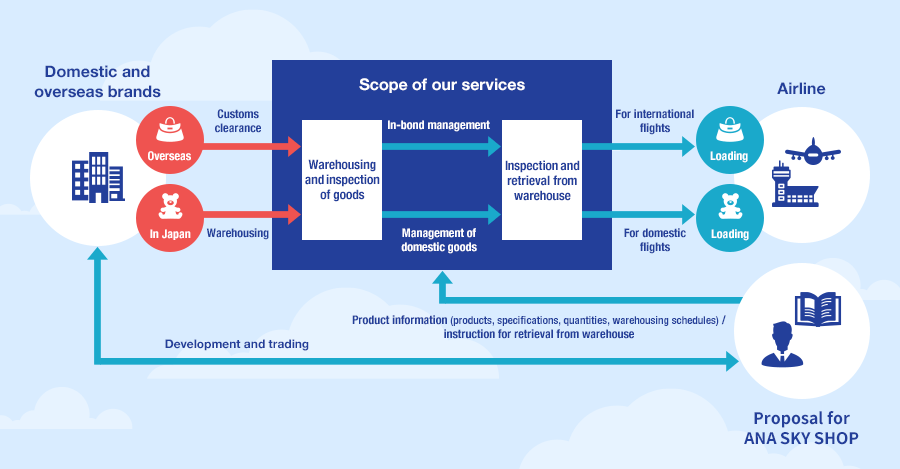 Various high-quality products including famous brand general jewelry goods, cosmetics and ANA original goods are sold on board an ANA aircraft. Due to the characteristics of these products, we inspect them in detail (not only the products themselves but also packaging) in a manner suitable for individual products. Additionally, because they are sold for a limited period, we are in charge of ascertaining an appropriate inventory level (including information on receipt and placement of orders) in cooperation with our customers and otherwise play a role to streamline business logistics.
Goods handled by us
Goods for in-flight sales are offered in many varieties: wallets, scarfs and other general merchandise, cosmetics, jewelry accessories, precision equipment, beverages and sweets. Since they differ in the method of storage and inspection, we need to have more product knowledge and exercise a greater deal of care. Furthermore, because they are offered for sale, it is necessary to ascertain a balance between the volume sold and the inventory.
Cosmetics

Flight Bear, and stuffed sea turtle of A380 type