Duty-free Goods
Service flow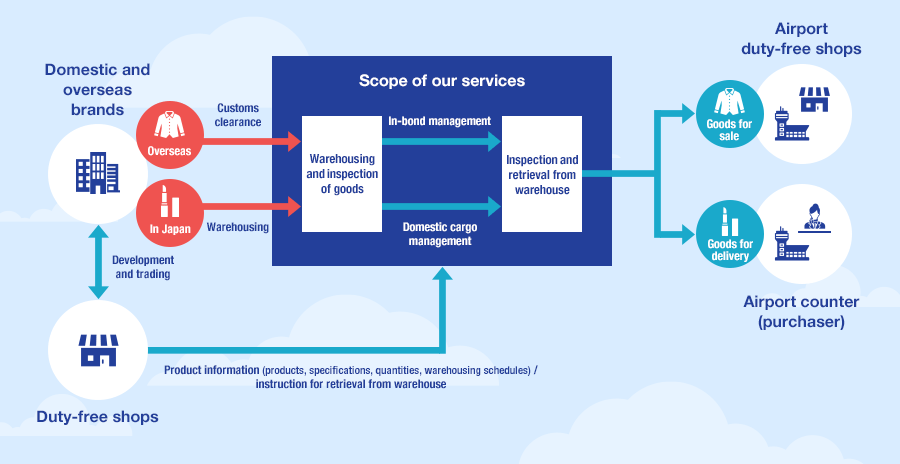 Products delivered from overseas brand manufacturers are forwarded to a bonded area and delivered to our warehouse (bonded warehouse). After inspecting them and obtaining approval from the customs house, we keep and manage them as bonded products.
Duty-free shops refer to shops located in a bonded area established within an airport. A bonded area refers to an area where objects for which collection of customs duties is reserved are allowed to be stored.
Some background knowledge
Difference between duty-free shops at airport and in town
Like airport duty-free shops, duty-free shops in town are located in a bonded area, and therefore a customer who buys goods at such a shop is not allowed to take the goods out of the shop immediately. A customer who buys a product at a duty-free shop in town cannot receive the product onsite, and the product is retrieved from a warehouse according to the flight schedule of the customer and delivered to the customer at the airport. In this respect, duty-free shops in town differ from those at airports where customers can immediately receive their purchases onsite.
To reliably deliver products chosen by a customer to him/her, we use electronic devices to carefully check the products multiple times.
<Airport duty-free shop>

<Duty-free shop in town>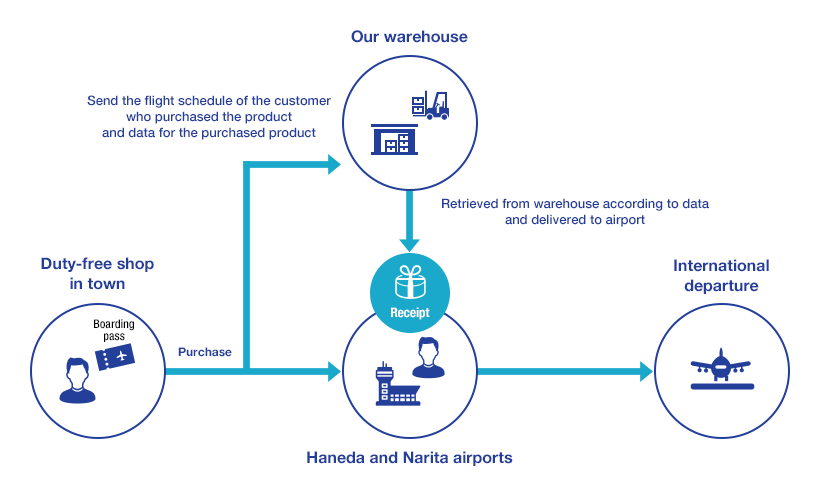 Storing duty-free goods in warehouse

Storage shelves for duty-free racks

Warehouse work related to duty-free goods