Aircraft Components
Handling operations related to import/export of aircraft components have been our core operations since the inception of our company.
These operations support aircraft aviation 24 hours a day, every day and literally have a direct relationship with safety. Also, highly accurate performance and knowledge in responding to specifics of products are required to perform the operations.
Overseas repair and new procurement of aircraft components
Service flow (overseas repair of aircraft components)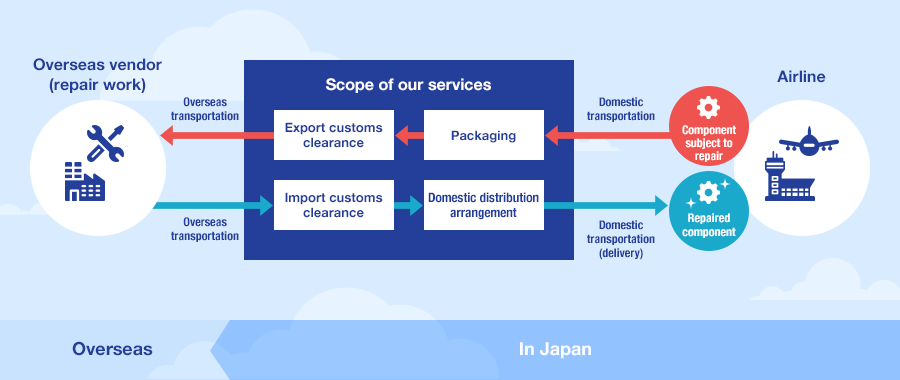 Some components used in multiple flights suffer fatigue, abrasions, etc. However, many of those components can be repaired in a factory of an overseas vendor and restored to a completely usable state.
Our company undertakes to perform the process for sending and returning the components. Our operations range from packaging of components subject to repair by an overseas vendor, to responding to export customs clearance, and through to responding to customs clearance for the import of repaired components to Japan and arranging for transportation in Japan. Thus, we support safe and secure flights by delivering to the aircraft maintenance site in a prompt and reliable manner.
Service flow (Procurement of new aircraft parts)

It is generally said that one automobile consists of approximately 30,000 parts if a small screw is counted as one part. However, 100 times more parts than those of an automobile are required to fly an aircraft safely.
Several millions of such parts are produced through collaboration between aircraft builders and specialist firms certified by a public organization. As a result, the high quality and safety of those parts are secured.
Japanese airlines procure many of parts they use from overseas vendors, and parts that arrive in Japan from overseas undergo the import customs clearance procedure in a bonded area and are sent to the maintenance site of airlines or their partner companies.
Our company proposes and implements an optimal customs clearance and distribution method according to the characteristics and priority of parts, thereby supporting the safety of aircraft aviation.
Arrangement of transportation of aircraft components to overseas sites
Service flow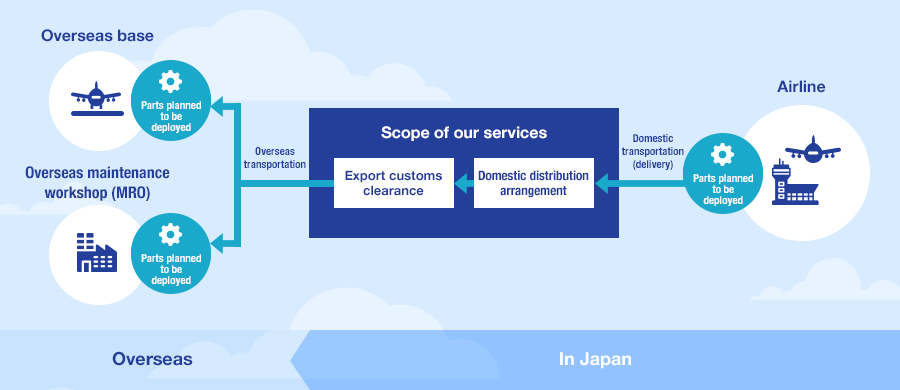 Some background knowledge
What is an overseas base?
Parts for minimum required maintenance work are available in 42 ANA-connected airports around the world.
Our company makes arrangements to send goods that are absolutely necessary for safe aircraft operation (such as aircraft tires and lighting equipment on airplanes that are stored at overseas airports) to ANA-connected airports around the world.
What is an overseas maintenance workshop (MRO)?
MRO is the abbreviation of maintenance repair overhaul and refers to a maintenance workshop for aircrafts.
Our company ships a large volume of parts necessary for maintenance work of all types of aircrafts (such as bolts and nuts, paint used for aircraft bodies, carpets placed in cabins and more) to four MROs around the world on a daily basis.
In addition, since many aircraft parts are of dangerous nature, abundant specialist knowledge is required to transport them safely.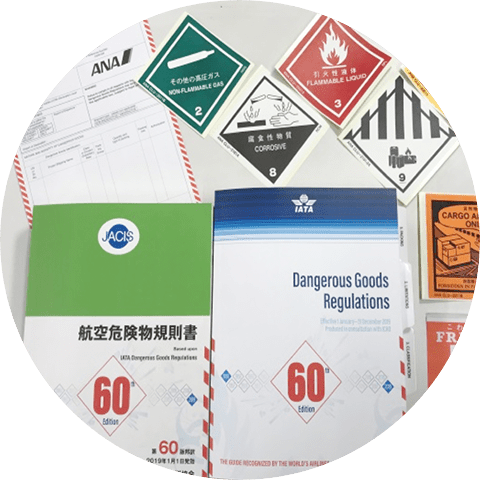 Handling of dangerous goods

Aircraft parts include many objects defined as "dangerous goods" by UN organizations. For example, even paint used for painting aircraft bodies, life vests for emergency situations and other parts are defined as "dangerous goods transported by air" to be on the safe side. They are required to be handled appropriately so that aircraft operation is not affected in any event. Our company is versed in the ways of transporting various dangerous goods safely, makes declarations and performs packaging appropriately to send them to overseas locations.
Our strengths
Versed in handling aircraft parts
Aircraft parts can mean a wide range of parts. We handle everything from bolts, sign places for cabins and other very small parts to engines, radomes (the nose of an aircraft) and other very large parts.
Packaged radome

B787 thrust reverser (a part of engine cover)
Packaging of a very large part
We often transport very large parts such as aircraft engines, radomes (nose of an aircraft) and lavatories (restrooms on an aircraft).
Even in the case of very large parts that cannot be moved by hand, we utilize our accumulated experiences and knowledge to package delicate aircraft parts in a manner so that they withstand transportation.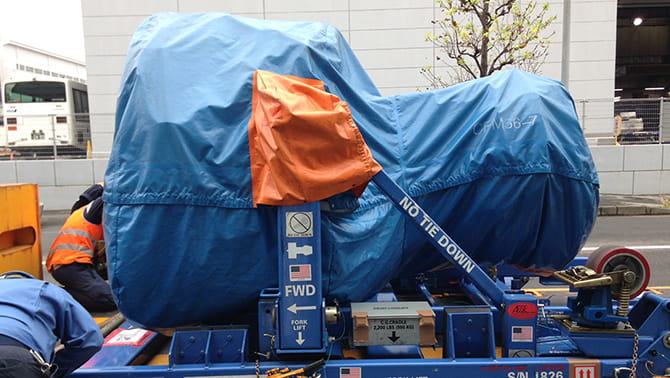 Import and export of explosives
Aircraft parts include objects called "goods equivalent to explosives" that contain explosives, such as fire extinguishers, actuators and smoke canisters,
As for the above objects, not only ordinary import/export procedures, but also formalities such as applications for permission to competent ministries and agencies must be taken, which requires abundant experiences and knowledge.
Customs clearance for aircraft bodies
When an airline acquires a new aircraft (newly-manufactured aircraft) from an overseas aircraft builder such as Boeing or Airbus, import customs clearance procedures are taken for the new aircraft (newly-manufactured aircraft) after it is transported by air (ferry flight) from overseas to Japan.
Conversely, when an airline sells aircraft (retired aircraft) that has completed its role in Japan, export customs clearance procedures for aircrafts are taken before it is transported by air from Japan to overseas.
In addition, when an airline sends its aircraft to an overseas maintenance workshop (MRO) for maintenance, most of the parts that are newly attached to the aircraft during maintenance are subject to customs duties and consumption taxes of Japan. Therefore, when the aircraft that underwent the maintenance work returns to Japan, import customs clearance procedures for the parts are taken.
Our company takes customs clearance procedures for more than 50 aircrafts in total annually, and we pride ourselves as a top runner in the aircraft import/export field.
Immediately after a newly-manufactured aircraft arrives, we climb aboard it and collect data required for making a declaration to the customs house by checking the manufacturer's serial numbers, on-board fuel and measuring the specific gravity of fuel and conducting other activities.


This kind of aircraft bodies called "white tail."

Normally, the logo of an airline is painted on a vertical stabilizer. However, if an aircraft is sold, the logo on its vertical stabilizer is erased and the whole body is painted white.